From the roof to the basement, a properly-insulated home is key for not just comfort, but for money-saving, too. Kinds of insulation can vary depending on climate, age of the home, and how it was constructed, but the purpose is the same: insulation is necessary to provide barrier between your home and the environment.
As your dependable Plattsburgh home inspection source, The Neighborhood Home Inspector has some tips and tricks for insulating a few key areas of a home.
Attic Insulation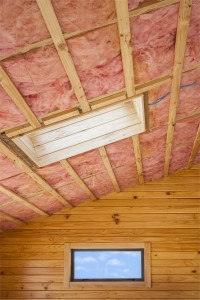 The most common type of attic insulation is batting or loose-full insulation. Not only is loose fill usually less expensive than batting, it also provides better coverage if installed correctly.
Regardless of which type you opt for, be sure to seal any air leaks and make any roof repairs before getting the job done!
Exterior Wall Insulation
There are many kinds of insulation, and each type has its perks depending on whether your home is brand new, old, or going through a remodel.
If you're updating the insulation in an existing home, opt for loose-fill or sprayed foam insulation. These two are the easiest to be added without making any changes to finished areas.
If you're in the process of remodeling and have the walls open anyway, try blanket–or batt and roll– options. These are particularly good options if the remodel is DIY!
For brand-new construction, consider advanced wall framing techniques. These improve the entire wall's R-Value (value of measurement for the degree of insulation; the higher the number, the better the insulating effectiveness). In short, advanced wall framing techniques use as little lumber as possible, in turn providing more space for insulation.
Basement Insulation
Whether it's a kids' playing room, a media room, office, or man cave, the Neighborhood Home Inspector knows a basement is valuable space in a home that can't go to waste! That's why it's key to keep it as warm and moisture-free as possible for a cozy living space.
While it's impractical to add exterior insulation to an existing home, interior basement wall insulation has many perks, including:
Much more cost effective to install
Deters insect infestation
Several types of insulation may be used
No matter what area of the home you need to insulate, a properly-done insulation job not only saves you money in the long run, but makes your home just that much more cozy.