Did you know the average U.S. household will spend $2,100 on home energy in a year?* Not only can energy-consumption be harsh on your wallet, it's tough on the environment, too.
You already know The Neighboorhood Home Inspector is here to help you avoid a money pit before you purchase a home, but what about once you own? There are still ways to be smart and cut back on unnecessary costs.
Here are the Top 5 Tips for new homeowners to make habit and see some savings.
1. Turn Off and Unplug All Electronic Devices When Not In Use
It may seem silly to unplug your cell phone charger if even it's not charging your device, but leaving an empty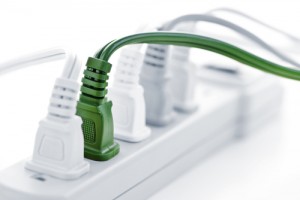 plug in the socket actually consumes some energy. Try using a power strip for devices you charge or use sparingly. This way, when the items aren't in use, simply turn off the power strip to cut down on some power usage.
2. Utilize Window Shades
You may want to let the sunlight fill the room when it's 95 and sunny, but that just means your A/C is going to have to work a little harder! Try closing the blinds or shades and enjoy a shady kitchen or living room instead. Likewise, while dirty, melting snow may not be the sight you want to see, go ahead and open the blinds! The extra rays will help warm a small space quicker than you'd think!
3. Use New & Improved Lightbulbs
Whether you opt for energy-efficient halogen incandescents, CFLs, or LEDs, they're all energy-saving options that are easily found in the grocery store. Studies reveal you can actually save anywhere from a third to 80% of energy thanks to these new and improved light sources!
4. Clean or Change Heating & Cooling Filters
From a small air conditioning unit that cools one room to a furnace that heats the entire house, a dirty filter is both gross and inefficient. It slows down air flow, meaning the device has to work extra hard to keep the temperature comfortable– driving the energy cost higher and higher.
5. Insulate & Seal Air Leaks
Whether it's adding some insulating foam around windows or covering a draft under a door, keeping out unwanted chilly air keeps a home cozy and cost-effective.
So whether you're ready to purchase a new property and need an NY home inspection or you're well into your home owning experience, The Neighborhood Home Inspector is proud to be a resource for all things home maintenance related.
*based on May data from the U.S. Department of Energy