When purchasing a home, it is suggested by our NY home inspectors company, and many others, to get the water tested.
Well Water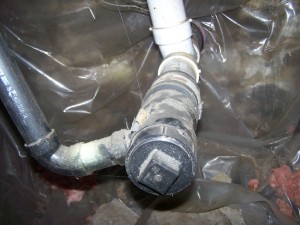 If you're purchasing a home with a private well, testing is a must. Wells are man made, and the water test will confirm whether there are any harmful contaminants.
Unlike many water sources, private water wells are not tested by authorities.
That's right. There is no agency or authority to monitor or test the water you will be using on a day to day basis. No one knows the quality of the water, unless someone has recently tested the water for contaminants.
Public Water
Public water supplies are monitored and must meet EPA regulations. In our experience, however, public water still may contain several contaminants, including hazardous ones.
Public water is tested at its source, not from your home's sink or tub. A lot can go wrong in the journey to your faucet. Pipes in the home or underground outside the home may be contaminated.
It is always a good idea to check and test all water sources. Contaminants aren't necessarily visible or identifiable through smell. For example, private wells run the risk of radon contamination.
Get your water tested and purchase your home with piece of mind.
Contact our home inspectors in Plattsburgh NY right here online, or simply call (518) 593-0642.
Save Time. Schedule your Inspection On-line Today. We call you to confirm. It's that easy!